Новости
Получена новая единица оснастки от потребителя. Будем готовить к запуску на серийное...
Подробнее »
Спроектирована, изготовлена и сдана новая единица оснастки для потребителя. Изготовлена...
Подробнее »
Совместно с конструктором ведем разработку 2-х новых изделий. Первый этап –...
Подробнее »
Aluminium Alloys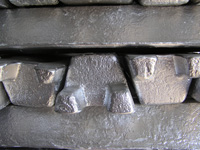 The competent management, flexible marketing strategy, professional team, partnership with leading specialists, and also continuous development of the potentiality have enabled to obtain its position as one of the leading producers and suppliers of aluminium alloys in the market of non-ferrous metallurgy in a quiet short period of time.
The manufacturing department of aluminium alloys is equipped with open-flame and reverberatory furnaces having different capacities, automatic loading machine and two ingot mould conveyors.
CJSC "SamZAS" has developed the technology and has regulated the output of more than 45 various grades of cast aluminium alloys corresponding to the GOST (State Standard) 1583-93. Moreover, catering the requirements of individual customers, the plant produces more than a third of alloys with a narrow chemistry composition and figures of pinhole porosity. It has also regulated the output of special alloys conforming customers' specifications (technical conditions).
Flexible production and marketing structure of "SamZAS" allow to achieve the highest level of customers' satisfaction, either large corporate companies or small organizations, as the plant has such possibilities as:
fulfilling orders of any volume;
carrying out small melting (min weight 500 kg);
producing alloys under the advance order, and fulfilling the immediate shipment from the warehouse of the plant.
Thus, the price level for our delivery products is optimally combined with their high quality.
The advantage of our professional partner relationships has been already estimated to its true worth by a number of companies, among them are domestic machine-building plants, such as OJSC "Volzhskiye Motory" (the Volga Motors), Ulyanovsk; Yaroslavl Motor Factory; OJSC "ZiT", and others.
Thus, the price level for our delivery products is optimally combined with their high quality!